by Michèle Adriaens, 3 Nov 2017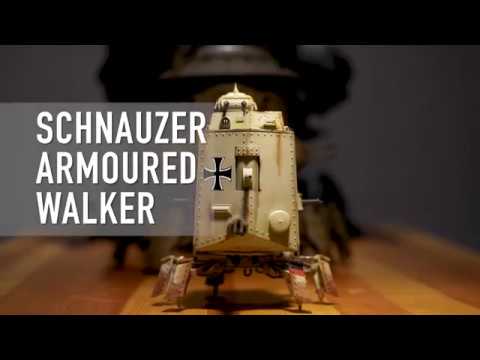 © Machination Studios
Michael Sng, owner of Machination Studio and creator of the Codename Colossus, just launched a kickstarter campaign for his newest  mechanized dieselpunk walking tank scale model, the Pzkpfl.I Schnauzer Armoured Walker.
After a successful launch of the British Empire's Mk.I Cyclops Colossus last December, this light armoured walker is the first Colossus from the Imperial German faction.
(from the kickstarter page)
Standing at 8¼ inches (21 cm) tall, the tank comes fully assembled, and professionally hand painted and weathered. Besides looking great, it features a realistic walking motion, a spinning gatling gun, and a cannon motion through a series of mechanical gears and cams, powered by a single motor and 4x AA sized batteries. A little technology to bring the model to life.
The tank is available in two colours; Green in the Grenzjäger (Border Patrol) markings, and Grey in the Kaisergarde (Imperial Bodyguard) markings.
The project is a collab with the team at Mighty Jaxx.